The Sovereign Data Hackathon starts today!
Register for the virtual hackathon for two weeks of building, workshops, and more than $10,000 in prizes!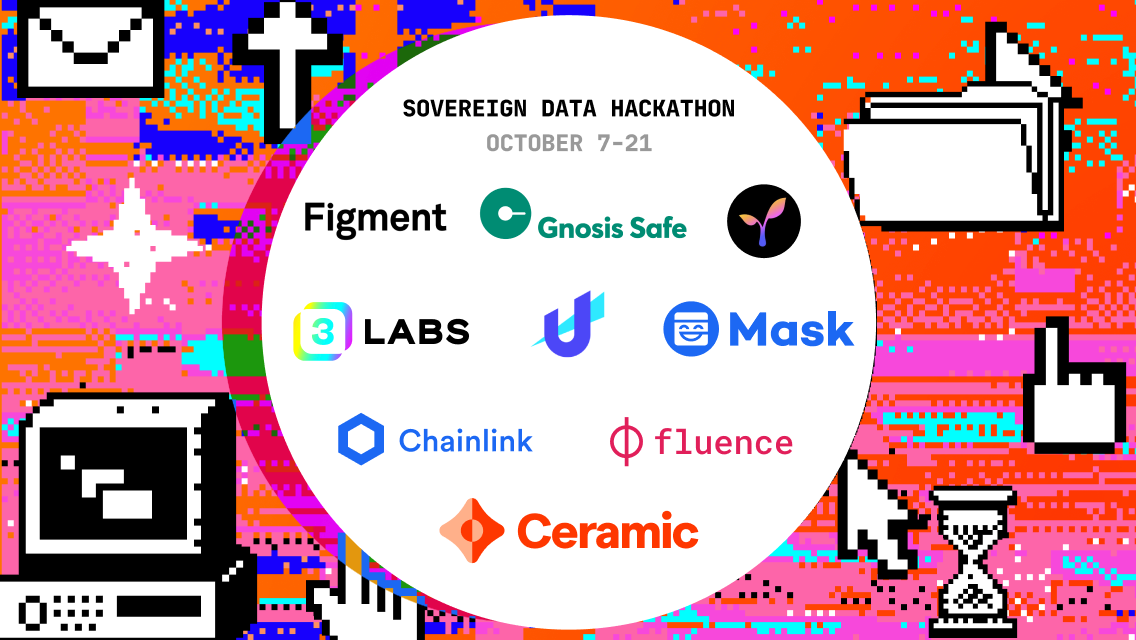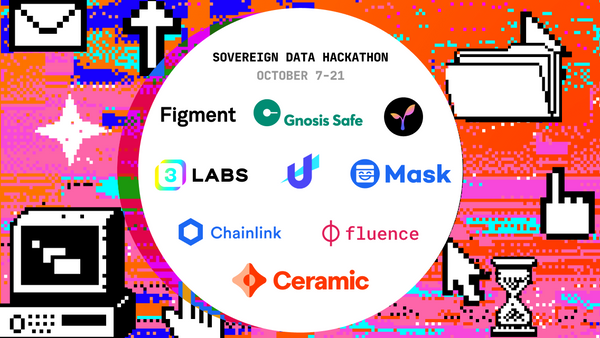 This week Facebook went dark, serving to remind the world of the importance of decentralized identity, sovereign data, and Web3 application architectures. A user-centric data architecture is key to building Web3 applications: one where data is hosted on a decentralized network, stored with individual users, written and queried by applications client-side, and reusable across applications.
Hack the sovereign web
Kicking off today, the Sovereign Data Hackathon is a virtual event that runs for two weeks, from October 7th to October 21st, and brings together developers, product owners, and designers from around the world to help build the future of Web3 data applications.
There's still time to register. Sign up for the hackathon here.
Along with co-sponsors Figment, Radicle, Chainlink, Gnosis, Mask Network, Unstoppable Domains, Fluence Network and 3Box Labs – we're offering:
$10,000+ in prizes
2 weeks of workshops, talks, and online community events
Challenges & Prizes
Bounties will reward teams that creatively develop awesome applications on Ceramic's sovereign data stack, but also those that expand the open source ecosystem of standards, tools, and integrations around it. For an example of some tools created by the community that are featured extensively in this hackathon, check out DataModels, Glaze, and Self.ID.
Bounties will be offered in three tracks during the #SovereignData hackathon:
1. Open Track
2. Data Models and Standards
3. Partner Track
Workshops and Talks
The event will feature workshops, talks and AMAs throughout the first week. Register for specific sessions here.
Hackathon Kickoff
Thursday October 7th at 11 AM EST

How Ceramic is Enabling Collaboration on the Sovereign Web
Thursday October 7th at 11:30 AM EST

Introducing Glaze and the Self.ID SDK
Friday October 8th at 8 AM EST
Building with Unstoppable Domains
Friday October 8th at 11 AM EST
Chainlink: Connecting Smart Contracts to Ceramic Network
Monday October 11th at 9 AM EST

Learn How to Add Decentralized Identity to Your dApp with Ceramic
Monday October 11th at 11 AM EST
Using Web3 Magic on your Web2 Social Network
Tuesday October 12th at 11 AM EST
Decentralizing Collaboration with Radicle Ethereum
Tuesday October 12th at 12 PM EST

AMA with Michael Sena, 3Box Labs CEO, on building Ceramic Network
Wednesday October 13th at 10:30 AM EST
Sign up for the hackathon
Register for the hackathon which kicks off today (Oct. 7) and lasts until October 21st
Hop into the Ceramic Discord for ideas, support, meeting teammates, or sharing what you're planning to build.
Best of luck to all the #SovereignData hackers!
---
Website | Twitter | Discord | GitHub | Documentation | Blog | IDX Protocol