Ceramic testnet and IDX to debut at EthDenver
Decentralized identity and data protocols from 3Box Labs await hackers at EthDenver, along with $10,000 in prizes.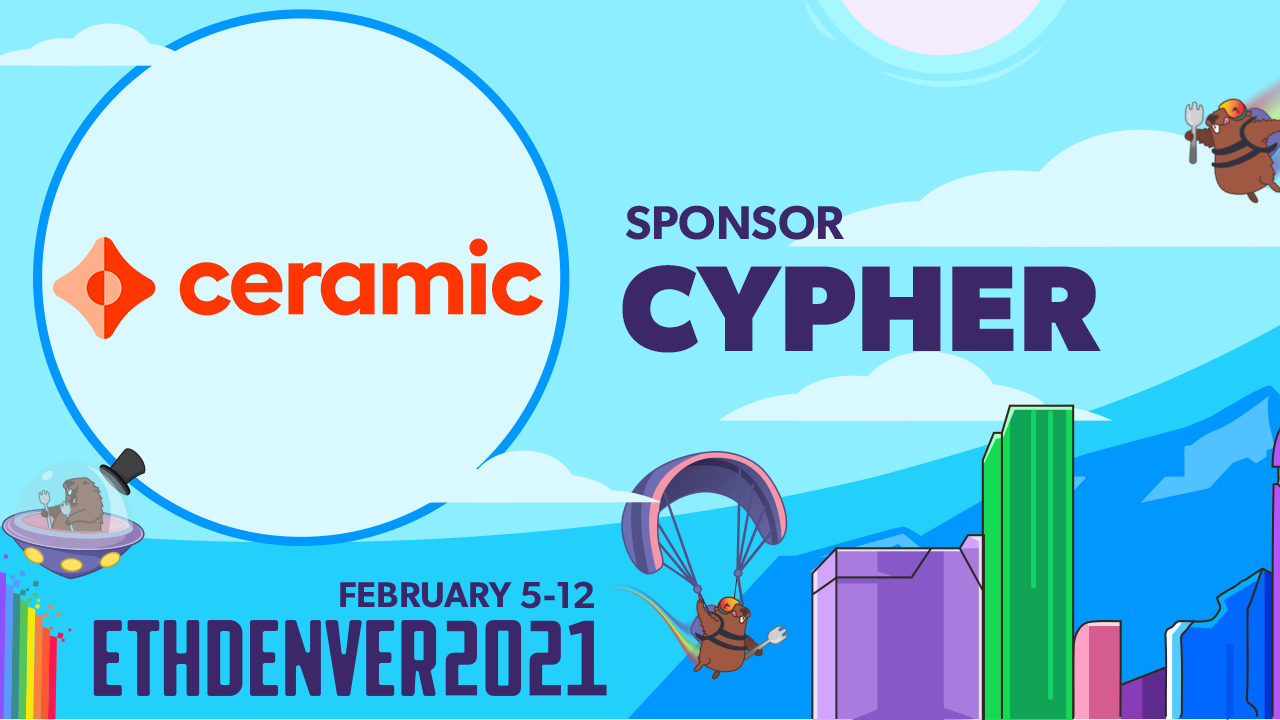 The 3Box Labs team will be back to EthDenver this year, though a lot is different this time around. EthDenver is virtual for 2021, of course, but our team will be manning the digital booth and roaming the virtual halls to meet and mentor hackers. We love this community and can't wait to see you and your projects, whether that's in the Sports Castle or GamerJibe.
The tech we have for hackers has changed too. Last year at EthDenver, our CTO Joel huddled in a corner of the castle to build the first POC of Ceramic. Almost exactly a year later, Ceramic Network has just moved into beta on a live testnet. IDX, the open identity protocol built on Ceramic, is also in beta and ready for use. And 3Box is now 3Box Labs, with our full focus on bringing these protocols to builders across Web3.
Ceramic and IDX offer a massive improvement on previous 3Box products, and EthDenver hackers are the first to get a crack at the beta versions. To celebrate, we've got lots of content, tons of ideas, and nearly $10,000 in bounties up for grabs.
Workshops and Talks
We'll be all over the virtual stage over the next week talking about decentralized identity and data. (Add to your calendar from the full schedule).
Workshop: Using open identity with IDX
Saturday 2/6 at 9am MST/5pm CET
Tech Talk: Standards for encrypted and mutable data on IPFS
Sunday 2/7 at 11am MST/7pm CET
Evolution of Decentralized Identity: A history
Thursday 2/11 at 4pm MST, 12am CET
Identity Legos Panel: The composable Web3 identity stack
Thursday 2/11 at 4:30pm MST/12:30am CET
We'll also be on stage during bounty presentations and opening ceremonies to share more about our prizes and products, and we'll have an informal office hours at 10:30am MT each of Monday-Thursday for hackers who want to drop by with questions.
10,000 DAI in bounties
We've got a huge trove of bounties to celebrate the beta release of 2 protocols: Ceramic is a peer-to-peer dataweb for publishing, linking, and querying verifiable information on the open web.
IDX (identity index) is an open identity protocol built on Ceramic that makes it simple to store, use, and manage decentralized identities and data across any network, platform or application.
We've split the 10,000 DAI in rewards across 5 categories.
Best overall use of IDX (identity index): 3000 DAI across 4 winners
Best overall use of Ceramic Network: 3000 DAI across 4 winners
Best new tools for Ceramic Network: 1500 DAI to 1 winner
Best use of Ceramic for social features: 750 DAI to 1 winner
Partner bounties: use Ceramic with Textile (1000 DAI) and with NEAR (1000 DAI) – or go for all 3 together!
The full bounty details are here. We'll be looking for submissions that tackle an original project idea, use Ceramic/IDX well and deeply, provide a wow-worthy demo, and contribute value to the Web3 ecosystem.
Hack ideas we'd love to see
If you are looking for a great idea or a good way to use Ceramic or IDX, here are a few things we know we'd love to see.
Use IDX to manage user identities and data
🧩Cross-chain profiles and identities
If your hack uses an L2 or non-Ethereum chain, make sure you aren't splitting users across multiple accounts. IDX lets you link multiple keys to the same identity and profile, from any chain!
⚙Backup and sync DeFi settings on IDX
In most apps and exchanges, user settings including watched addresses, tokens, currency preferences, and contact lists are stored in local storage. A new device, browser or even cleared cache means everything is gone. Storing these in a user's identity index assures backup, multi-device support, and reusability across applications!
Use Ceramic as an open and auditable content store
🐤Mirror of Crypto Twitter onto Ceramic Network
Our community has put up $15,000 (so far) in donations for a tool that mirrors tweets onto Ceramic Network, paving the way for a new Web3-native social conversation without the need for a mass migration off Twitter. Get started towards this at EthDenver!
🎨Mutable metadata for NFTs
NFTs are unique, but do they have to be static? Mint NFTs with metadata stored on Ceramic and the owner of the Ceramic document can change the properties of the NFT over time.  An artist could keep updating the NFT metadata after it's minted, creating a unique evolving piece.
📝DeFi Annotations and Comments
Create a commenting system with Ceramic that lets users add notes to contracts, addresses, trades or anything else in DeFi. Managed by users directly, these notes could be accessible across any DeFi app. This could be a javascript library for apps to integrate, or a browser extension for users to add themselves.
📤Auditable discussion forums
Use Ceramic documents to create discussion forums that are auditable, flexible and decentralized. Each user can post to their own Ceramic document, with each aggregated and referenced to create the full forum. No server needed, and easy paths to a censorship resistant foundation with moderation layered on.
Use with other dweb tools to open up new use cases
✉P2P chat or comments
Use IDX with Textile's js-threads or another messaging protocol to build fully P2P social features that authenticate directly with a user's key and identity. You could create an embedded support bot, a DeFi trollbox, team chat tools, a "decentralized disqus", or a notification service.
🗄Ceramic as a CMS for content on IPFS, Textile or anywhere else
Ceramic's mutable documents with persistent doc IDs makes it great for managing dynamic information that is stored on IPFS or elsewhere. Use Ceramic to catalogue, index or generally manage the data used in your hack., wherever it's stored. You can publish the definition (schema, etc) of data stored in Textile or other DBs to make private data discoverable and interoperable.
Create tooling for decentralized identity and data
🗺Ceramic document explorer
Create a way to visualize and explore the documents that exist on Ceramic. This could focus on the available definitions that have ben created, all Ceramic documents, individual user identity indexes, or anything else. We'd love to see how you'd like to explore the network!
🖇New crypto or social account links
The 3Box Labs IdentityLink service provides verifications for Discord, Twitter and Github. Add one for Telegram, Matrix, Discourse or a KYC provider.
Or add support for a new blockchain. Ceramic can currently be authenticated by Ethereum, Filecoin, EOS, NEAR or Cosmos keys. It's simple to add support for your preferred chain.
🚛Import of Web2 social data to use on Web3
Many large Web2 apps now have APIs to export user data (with users' permission). Build a mass-export tool that puts valuable data into users' hands by adding it to a their identity index. Create definitions for each export so it is easily discoverable and usable across Web3, and store the data encrypted in Ceramic, Textile or elsewhere.
Resources
To get started building, jump into our docs and tutorials!
We'd love to hear from you as you build so please join us in the Ceramic Discord Community. Happy hacking!