Ceramic Launches Community Forum
Your place to ask technical questions and receive Core Team & community responses.
We're excited to share that we launched the Ceramic Community Forum! The forum is the place to ask technical questions and receive support from your fellow community members and Ceramic's core team.
Why did we launch the forum?
If you have been a part of Ceramic's developer community for a while, you probably know that we've been exchanging knowledge and receiving updates from the Ceramic core team on a Ceramic Discord Server. One piece of feedback we received from multiple members of the community is that, over time, the RSS feed-like nature of Discord made it difficult to get answers to technical questions and search for information. It became clear that we need a better platform for facilitating technical support and empowering our developer community to share technical knowledge about Ceramic.
What do I use the forum for?
The forum is dedicated to asking and answering technical questions about Ceramic. It consists of a few main categories dedicated to specific aspects of Ceramic tech. If you have a question to ask, simply open it under the most relevant category. The questions asked on the forum will be answered between the Ceramic community and Ceramic's core team.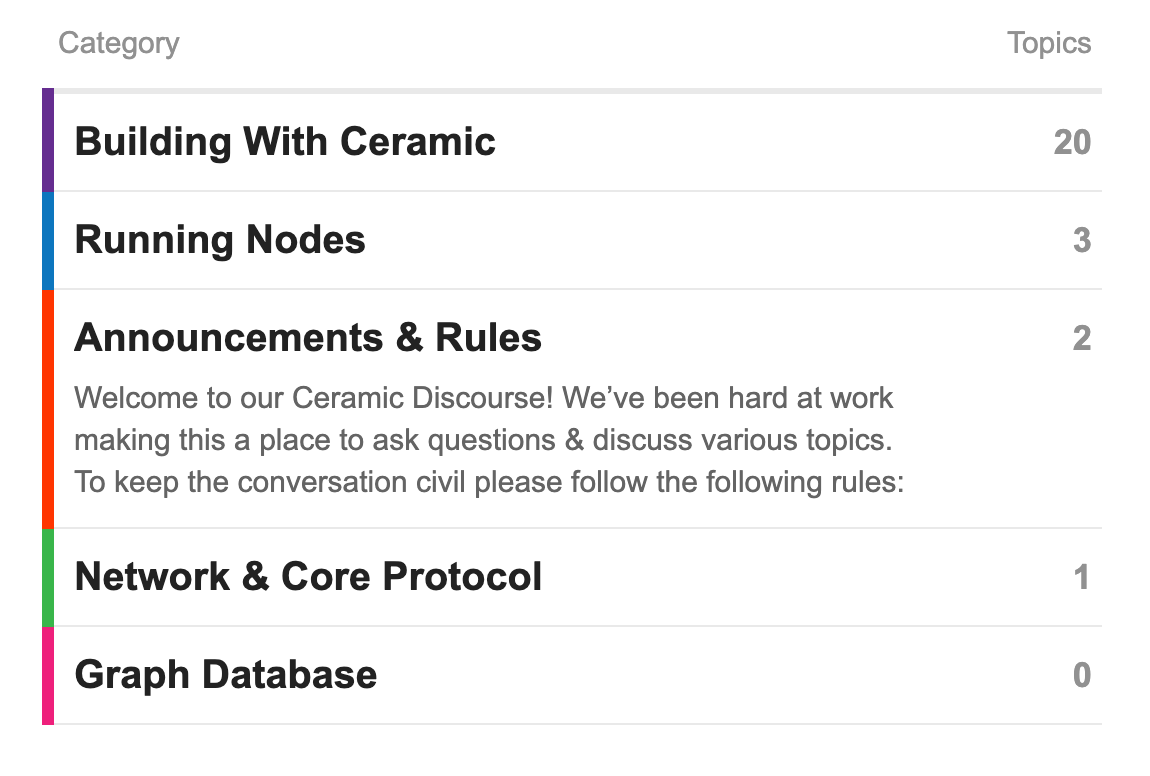 The forum includes a few additional features that should improve the technical-information sharing and question answering across the Ceramic developer community:
Better search—you can use the forum's built-in search tool to discover questions that might be similar to yours
Sign-in with Ethereum—to begin using the forum, you can sign up using your Ethereum wallet.
And what about the Ceramic Discord server?
The Ceramic Discord Server is not going anywhere. Going forward, the server will be focused on facilitating more high-level discussions around Ceramic—e.g. talking about community projects, sharing ideas and feedback about specific aspects of the Ceramic Network. Over the next month, expect to see some architectural changes in the Discord server as we transition technical support to the Ceramic Forum.
Try out the Ceramic Forum and let us know what you think!